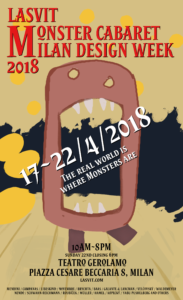 Der Tanzlaubenhund von Raja Schwahn-Reichmann
(Dieser Text ist leider nur in englischer Sprache verfügbar, bitte um Ihr Verständnis.)
Once upon a time, there was a creature that appeared at feasts and made people wild – "Der Tanzlaubenhund" or "Dancing dog," as we call him. Sometimes he would remain hidden, but at other times he lets himself be seen…
"Normally, he lies under a bench and watches people, but sometimes he appears dancing on his hind legs. He can drive you mad, or make you passionate and wild with his evil eye… And so a peaceful feast can turn into a cruel fight or a destructive orgy," says Raja Schwahn-Reichmann about this malicious figure from Swiss fairy tales.
He is described as a dog who is as tall as a man, with only one eye as big as a plate shining upon his forehead. In his tangible form, he reminds us of another scary creature from our world – the Tasmanian Devil.
The figure of the dog is black. It is made of painted wood, but it´s his "magical" eye that draws one's attention – the big glass eye stares deep inside you. Under his feet are scattered pieces of colorful glass of mysterious origin.
Pressefotos
Credits: Sofern nicht anders angegeben Foto: Raja Schwahn-Reichmann
Download: Alle Pressefotos als zip-Datei (30 MB), alternativ einzelnes gewünschtes Foto aufrufen, rechts unten Link "Bild in Originalgröße anschauen"
Der Tanzlaubenhund für Lasvit: Original-Malerei und Rendering

Portraits
Omnia Vincit Amor, Milan Design Week 2016
Life Ball 2014, Malereien mit Kostümen
Wandmalerei und Malerei auf Sperrholz
Bildhauerische Arbeiten für ein Schwimmbad in den Schweizer Alpen