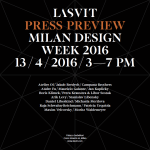 Iconography of the big chandelier – Omnia Vincit Amor
Love conquers all
Sparkles from the core – Hit by Cupid and set on fire, the wounded, flaming heart becomes a source of light and passion for every living being. Its fire stays victorious over frigidity and darkness. So all creatures, animals, plants, spirits, satyrs and satyresses are pushing towards this fire, in its shine becoming flames themselves! Devoted, illuminating, dancing around the centre, around their divine desire, featured out as a wine red jewel, willing to sink into the rose-coloured lotus blossom…
Om Mani Padme Hum
The male be within the female
So it is! – and there is light
From lust to lustre!
About the motivation for my paintings
My great pleasure and joy to intervene with my paintings in our rooms, in our lives needs, additional to the painted space, three-dimensionality – namely the cropping of the figures (the painting on plywood is cut out according to the silhouette, inspired by the baroque Chantournés). Freed from their painted background and exposed to our reality all these gods, genii, erotes, fauns, chinoise ladies and dancers intervene in our actions, with their cheerful, festive message pacing us politely but firmly as light-bearers.
Some words about the chandelier groups
About "Omnia Vincit Amor"
Dionysus – as leader and rioter of all the baroque bucolic bustle, with Cupid and his divine relatives and ambassadors, he is a protector against melancholy as bearer of wine, lust(re) and light
About "Each Pagody an Episody"
My Chinoiserie is inspired by the European baroque Chinese style that knew how to combine India and China, Indian and Moorish, easygoing, cheerful and elegant.
All nonsense is hard – thus highest art!
Press photos
Credits: Unless otherwise stated Photo: Raja Schwahn-Reichmann
Download: All photos as single zip-Archive file (27 MB), alternatively open single picture and choose the link "View picture in original size" on bottom right
Chandelier for Lasvit: sketches and details for original paintings
Portraits
Life Ball 2014, paintings with costumes
Paintings on wall and plywood
Sculptural works for an indoor pool in the Swiss alps
Video: Omnia Vincit Amor at the Milano Design Week 2016